Floorball plays and game situations eBook
Use the floorball drills and practices as is, or remove, moves, passes or players to get an easier floorball practice drill or play to use in your floorball training.
More advanced floorball drills
These floorball game drills are a little bit more advanced (sometimes) than other floorball drills and in that way the floorball drills are more suitable for older Boys / girls or men /  women's floorball teams practices, training and coaching.
You get floorball plays and drills covering a lot of situations in a floorball game,
– for your forwards,
– for defensive players
– and also for your goalies

The floorball drills are divided into three groups,
– Offensive zone floorball drills
– Playing up from your own zone and transitions
– Power play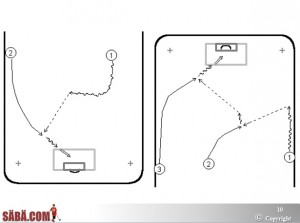 In total you get more than 250 floorball drills / plays, which you of course can split up to part floorball drills and that way get even more floorball drills to use on your practices.
Price 19,90€